Looking for the queen size bed or queen bed dimensions?  The queen size mattress has been the most popular size for the average consumer since 1999, though its rise to popularity has been rising at an astounding rate since its introduction to the market in the 1950s. Picking the right mattress size for you is a matter of weighing the pros and cons of each, so here's a handy guide to the pros and cons of the queen size mattress.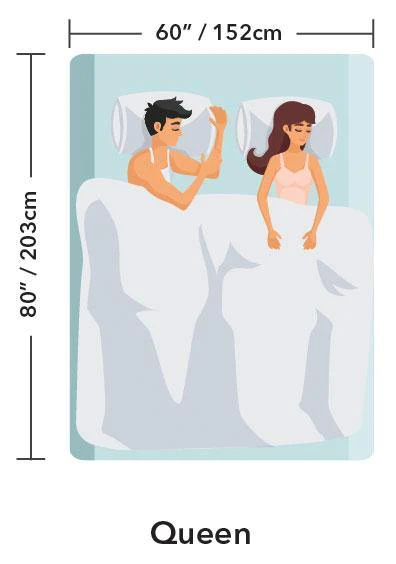 Queen Size Bed Dimensions
The queen size mattress measures 60 inches by 80 inches. That is 6 inches wider and 5 inches longer than the double size mattress. The extra couple of inches makes a difference for those that enjoy more room to spread out or sleep with a partner. The queen size mattress is the most popular size for couples as it has enough space to sleep two people comfortably.
In the UK, there is no queen size mattress, and instead, their king size mattress is roughly the same size. The UK king size measures 60 inches by 78 inches, meaning that they have the same width as the American queen size, but are two inches shorter.
Queen Mattresses are currently the most popular bed size in the US, and our Queen Mattress Reviews as well as our guide to Queen Mattresses make it easy to see why. Queen size mattresses are also some of our most versatile sizes, allowing couples to sleep comfortably and still fit into a small bedroom. Whether you're single or sharing a bed with a partner, a queen is a mattress size that you won't outgrow in no time.
The popularity of queen mattresses has also increased the demand for queen-size bed frames. Most bedrooms can comfortably accommodate a queen mattress, and their popularity means there are accessories and linens to choose from. 
A queen-size bed provides enough space for individual sleepers to stretch out and sleep comfortably, and you can choose one that suits your needs, such as a king-size bed or queen-size bed. 
Built for couples, queen-size mattresses offer you extra sleeping space without consuming your bedroom like a king-size mattress, but they are often adopted by couples who do not have enough space for two or more people in the same bed. Two people fit into a queen size bed without having to reserve six feet of space for the king bed, and two people fit comfortably into one of the queen beds. 
Queens are ideal if you have a couple staying in a guest room because a full bed quickly feels too cozy.
A queen mattress size can measure up to 2 – 3 inches taller or smaller based on the vendor, depending on the fabric tick, and will typically all fit within a standard queen bed frame. 
King size beds are able to offer a tremendous upgrade when it comes to bedroom space and offers plenty of room for a couple who can share. Although they do not offer more legroom than a queen-size bed, the extra width will make a big difference in terms of comfort and should be the equivalent of two twin-size mattresses, they should provide significantly reduced movement, especially if you are an active sleeper. Although they do not offer more legroom than the queen-size sleepers, this extra length and width, as well as the addition of a king-size mattress, will still make a huge difference so if you can afford and have room for one, consider a King Size Mattress. 
Looking at the statistics, it is easy to see why choosing the right bed and mattress is an important decision. If you get the recommended amount of sleep per night, you will spend a third of your life in bed.   
Pros
Having a couple of extra inches over the double mattress gives the queen size a few advantages smaller sizes of mattresses.
Flexibility: Whether you sleep curled up or stretched out, you can sleep however you like in a queen size mattress without worrying about the limitations of size.
Popularity: The queen size mattress has become the industry standard and the most catered to the size of the mattress. This means that shopping for one is easy, and bedding options are abundant for this size.
Couples: The queen size mattress is suitable for couples to sleep together. It's not cramped and allows each partner their own space while also conferring the comfortable feeling of a shared bed.
Comfort: Queen size mattresses offer more surface area so you can always find a cool spot on the bed and sleep comfortably.
Lifespan: With more space to cover, you won't wear out your mattress as quickly and it will remain clean for longer.
Cons
There aren't too many downsides to consider with purchasing a queen size mattress, but there are few things to think about.
Space: Yes, space is a pro and a con. It's wonderful to sleep on a big mattress, but make sure you have enough room for it! The recommended bedroom size is 10ft by 10ft.
Cost: Queen size mattresses aren't the most expensive mattresses on the market, but they do cost more than their smaller cousins, so make sure you balance the cost with your need for a big mattress.
Summary
If you're looking for a new mattress and you need more space or are planning to sleep with a partner, then the queen size mattress is the right pick for you. It offers space and comfort at a decent price point and is easy to shop for. You can buy one of the best mattresses online here at Gottasleep Just be aware of the size of the mattress and the dimensions of your bedroom. If you need a different size, check out our guide on the full bed size, and Canada mattress Sizes Guide!