Are you a Canadian shopper looking to buy a new mattress? So, you've done some reviews on mattresses and probably found out that a lot of mattress brands, including "bed-in-box", located in the United States don't ship their mattresses outside the country.
However, in recent times, dozens of mattress brands are now based in Canada. This allows Canadian shoppers, who love quality mattresses, to choose from a wide base of Canadian made mattress brands.
Looking for the Best Mattress Canada?  Check out our amazing guide.
Let's examine the top mattresses made in Canada below.
Top 10 Canadian Made Mattress
One of the most important decisions you can make is picking the right mattress for you. A mattress is a daily necessity and the type of mattress you sleep on has an effect on your health.
Deciding on the brand of a mattress to buy from can be a bit tricky due to the high number of mattresses you find everywhere with varying prices and sizes.
Below is a list of the best Canadian mattresses from which you can choose. The list includes mattresses that are sold primarily in brick-and-mortar stores as well as bed-in-a-box brands that are available for home delivery.
Reviews of Canadian Made Mattresses
Canada has reputable mattress manufacturers who have taken their time to research the latest in sleep science. It is a worthwhile investment to find the best mattress brand available to Canadians.
1.  OMG Mattress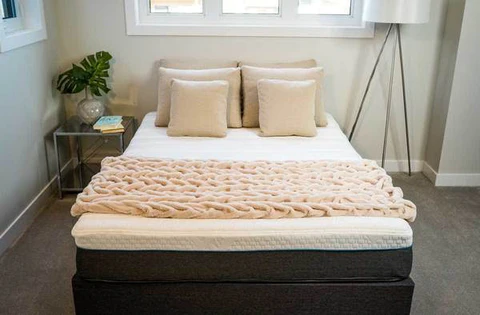 Features:
101-night Risk-Free sleep trial
10-Year Warranty
Super Soft Gel Quilt Foam
Phase Changing Graphite
Hi-Density Proprietary Memory Foam
Cooling Gel-Infused into Memory Foam
Eco-Friendly
CERTI-PUR Certified
Spine Alignment
Pressure Point Reliefs
OMG mattress is one of the best mattresses which has the latest in sleep technology. The premium High-Density Memory Foam used in the construction of the mattress makes it alleviate pain from arthritis and injuries, while also reducing pains from pressure points. The mattress is designed with a gel quilt foam which regulates temperature.
The OMG's Bio Foam is made from plant-based oils and has very little off-gassing. In addition, each foam used in the design of OMG mattress is CertiPUR-US Certified. OMG reduces moisture, pressure, and body heat. It is ideal for all sleepers. From top to bottom, the OMG reinvents bedtime and helps you sleep well. OMG mattress is ideal for Canadian shoppers.
Read a full review of OMG mattress.
2.  Endy Mattress
Features:
Copper-infused memory foam
Medium firm
24 hours degassing period
0 days break-in period
100-night sleep trial
10 years warranty
On a mission to improve the sleep for Canadians Endy is proud of the fact that its entire operation is based in Montréal. The Endy Mattress has a medium-firm feel and a comfort layer that is made of open-cells polyfoam. It gives a slight bounce at the surface due to the responsive nature of the foam.
The comfort layer of the mattress provides excellent spine alignment and reduced pressure on pressure point areas.
Read full review of Endy Mattress
3.  Douglas Mattress
Features:
Copper infused memory foam
Medium firm
24 hours degassing period
30 days break-in period
120-nights sleep trial
15 years warranty
The Douglas mattress is designed by GoodMorning.com and it is built with materials which are sourced from Canada. For an all-foam mattress, it gives a comfortable and supportive feel.
Douglas mattress design comprises three foam layers (gentle memory foam, buoyant Elastex foam, and durable high-density foam). The mattress gives a balanced, supported and contoured feel when laid upon.
The mattress is very responsive and could help those with mobility issues. It has a great motion isolation and excellent edge support.
4.  Casper Mattress
Features:
Multiple firmness options
4 layers of memory and zoned support foam
24 hours degassing period
1-4 weeks break-in period
100-night sleep trial
10-year warranty
The Casper mattress, known to be a U.S mattress, now has a headquarter here in Canada. The mattress includes a pressure relieving foam which relieves pain from pressure points. The mattress keeps cool during sleep and it is great for different kinds of sleepers. Casper mattress also has a great spine support.
5.  Recore Mattress
Features:
Great responsiveness
Sleeps relatively cool
4 layers of memory foam
Medium firm
120-night sleep trial
15-year warranty
The Recore Mattress features a simple design that is made up of four layers of memory foam, latex, and polyfoam. The mattress has a special transition layer of gel-infused memory foam which gives it a slow response to pressure. The graphite and gel-infused layer makes the mattress sleep cool.
Sleepers who fall in the average weight would find the Recore a delight as it provides a balanced-body cushioning and overall support. The mattress provides excellent spinal alignment, support, and stability.  The 7″ high-density polyfoam, which is the firmest layer of the bed gives great support for sleepers that are in the heavy-weight range.
6.  Brunswick Mattress
Features:
Medium Firm
120-night sleep trial
15-year warranty
Temperature neutrality
Strong edge support
Pressure point relief
Spinal alignment
The mattress is suitable for sleepers in the heavyweight range who prefer thicker mattresses. With a layer of gel memory foam, polyfoam, and poly fiber layer, the Brunswick provides comfort for sleepers.
Temperature neutrality is maintained throughout the night due to the strong airflow. This is due to the coil layer used in the foam construction as well as the cooling gel infused into the foam layout. This makes Brunswick ideal for a hot sleeper.
7.  Novosbed Mattress
Features:
Multiple firmness options
0-7 days break-in period
120-night sleep trial
15-year warranty
CertiPUR certified
With its headquarter in Calgary, Novosbed provides a risk-free mattress. Their products are eco friendly. The Novosbed mattress has a great motion isolation feature. It is suitable for all sleepers due to its varying firmness options. The Novosbed is designed with thick pressure-relieving comfort layers.
8.  Logan and Cove Mattress
Features:
Medium firm
24 hours degassing period
2 weeks break-in period
120-night sleep trial
15-year warranty
Logan and Cove gives a very comfortable feel despite being a firm mattress. Lovers of plush mattresses will find Logan and Cove mattresses comfortable and satisfying.
It is suitable for stomach sleepers as the firmness settings allow for ease of breathing without compromising the comfort.
The mattress has a minimal motion transfer and gives a good bounce. It is also ideal for hot sleepers. It has an excellent edge support and is suitable for heavyweight sleepers.
9.  Juno Mattress
Features:
Medium Firm
120-night sleep trial
15-year warranty
Even, consistent support
Very affordable
The Juno Mattress is a medium firm all-foam mattress that appeals to side sleepers. The mattress possesses a touch of coziness due to its stretchy knit feel. Memory foam used in the construction of Juno mattress gives a bit sinking into it due to the slow response to pressure.
The firmness of the polyfoam serves as a support for the sink that affects the memory foam. The layer construction makes the bed to have a softer feel touch. This feature makes it ideal for contouring and pressure relief.
10.  Polysleep Mattress
Features:
Memory foam
Medium firm
100-nigt sleep trials
10-year limited warranty
The Polysleep mattress is designed, manufactured and assembled in Montréal. The mattress construction combines soft memory foam and high density polyfoam to give a deep pressure relief.
Polysleep mattress makes for a breathable structure and sleeps cool due to the perforated too comfort layer used in the design. It is also made up of water-repellent cover.  The mattress provides an excellent sleep comfort.
Mattress Types
Mattress comes in different types based on the material used in their construction. The common mattress types include:
Memory Foam. This mattress type gives a hugging and oftentimes sinking feel. It is suitable for people who require good pressure relief. As for the setbacks, it oftentimes has a slight off-gassing and tends to sleep hot. It also doesn't offer a good edge support.
Innerspring. Innerspring mattresses give a supportive and bouncy feel. They prevent the sinking feel and allow sleepers to float. They are relatively cheap but don't really have a long lifespan. Innersprings don't sleep hot but can give a noisy sound because of the squeaky metal components.
Latex. Latex mattresses are great for their natural origin. It provides excellent support; good conforming and it is responsive. Latex mattress is noiseless, sleeps cool, and great at motion isolation. However, latex mattresses tend to be on the high price and also offer an average edge support.
Hybrid. The hybrid mattress is a combination of the other mattress types, (sometimes just two, sometimes all three). Though hybrid mattresses are quite expensive, there is a perfect mattress for almost everyone.
5 Major Factors to Consider before Choosing a Mattress
Now that you know about the best mattresses made in Canada, let us examine the major factors to consider before you choose a mattress.
1. Size:
Choosing a size of mattress depends on the amount of space you have in your room, the number of sleep companions (kids and pets) and your preferences. The basic sizes of mattress include twin, full, double, queen, king and California king size.
Therefore, before you make the decision on which size of mattress to buy, consider the amount of space that would be available in the room after you include the mattress and other furniture.
The number of sleeping companions you have and your preference for larger beds should form your buying decision.
2. Comfort Level/Firmness
Mattresses are available in different levels of firmness which determines the level of comfort you get. Ranging from firm to soft, choice of mattress firmness is based on your sleeping position, weight and preference.
For instance, firmness preference for a stomach sleeper would be quite different from that of a side sleeper. In the same manner, what a sleeper in the lightweight range will consider too firm may be soft for a sleeper in the heavyweight range.
3. Temperature
Do you wake amidst sleep due to heat? If you naturally heat up during sleep, it is best to choose a mattress with an excellent temperature neutrality and sleep cool.
While most mattresses might make you warmer all through the night, specific mattresses with cooling features help to regulate the temperature and ensure you have a quality sleep.
4. Pain
If you experience pain at pressure points, such as the hips, the shoulder, lower back, etc, you need to choose a mattress that would offer pressure points relief.
For example, if you have lower back pain, you may need a firmer mattress to help keep your back aligned. It is therefore better you identify any pain you have before going to buy a mattress.  Knowing the pressure points and areas where you feel pain will help you choose a mattress that will alleviate these pains and improve your sleep.
5. Budget
No one launches into the sea without proper preparation. Though coming last, this is a very vital factor to be considered before you choose a mattress. You won't want to buy a mattress with all the bucks you saved.
Therefore, it is important to make out your budget and find a mattress that can offer value for your money. There are mattresses that fall within the low-price points and over a great value for their amount.
To learn more about mattress and bed, you can read our article on Bed Sizes and Dimension